Another bumper year for Tasmanian hike
November 23, 2021

Stroke Foundation has thanked the organisers of the annual Tasmanian Iconic Walks hike for their ongoing support after another successful event.

Seventy-five hikers gathered on Saturday November 6 to tackle the 17-kilometre, seven-hour walk from Tasman Arch to the scenic Fortesque Bay, raising more than $40,000 for Stroke Foundation in the process.

It was the fourth time the event has been held, with donations totalling an incredible $165,000 in that time.

Stroke Foundation Tasmanian State Manager Eamonn O'Toole said an event like this takes a lot of time and dedication to plan and run, particularly in the midst of the COVID-19 pandemic.

"The Tasmanian Iconic Walks team of volunteers, led by Jo-Cordell-Cooper, has demonstrated once again what can be achieved with determination and a passion to connect people to each other, their environment and the wider goal of supporting people impacted by stroke," Mr O'Toole said.

"The success of this year's walk is a testament to these volunteers, but also to the people who took part and the generosity of the community."

Organiser Jo Cordell-Cooper said there was an extremely positive atmosphere on the day.

"The hike itself is challenging and it was wonderful to see members of each team supporting each other throughout the journey," Jo said.

"Many of the participants had been impacted by stroke in one way or another, so the cause resonated strongly.

"This walk provides the opportunity for people to raise funds for vital programs that help the stroke community throughout recovery. It also enables hikers to reduce their own stroke risk by being physically active."

Jo is passionate about supporting Stroke Foundation after her father Ron suffered two strokes and lived with poor health for four years before sadly passing away.

"Like many of the participants of this walk, I know first-hand that stroke can have a profound impact, not just on an individual, but their family too."

"I am proud this walk will make a difference for people with stroke in the future," Jo said.

Stroke strikes the brain and can change lives in an instant. There are more than 11,000 survivors of stroke living in Tasmania.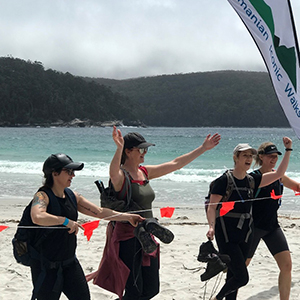 Image: Tasmanian Iconic Walks hikers crossing the finish line
A/Prof Seana Gall, Chair of the Health Promotion Advisory Subcommittee, for taking some great footage from your walk.