Workplace giving
What is Workplace Giving?
Workplace giving is a way for employees to give small, regular donations from pre-tax pay.
It's never too late to support your favourite charities and workplace giving programs make it simple and effective.
It doesn't take much for employee giving programs to make an impact - in fact, you probably won't notice the difference to your pay - but with your ongoing support through Workplace Giving, together we can build sustainable, long-term support for stroke survivors, families and carers.
Many employers also match your donations.
The benefits of a workplace giving program
Workplace giving benefits employees by:
providing an immediate tax benefit by reducing your taxable income; and
removing concerns about record-keeping - employee donations are automatically recorded on your pay slip
Workplace giving benefits employers by:
boosting employee morale by demonstrating good corporate social responsibility;
providing an opportunity to match employee donations to significantly increase the impact Workplace Giving has for the charities supported;
creating a cost-effective way to build long-term partnerships with charities;
offering the opportunity to further engage with the Stroke Foundation through volunteering and community fundraising.
How do matched donations work?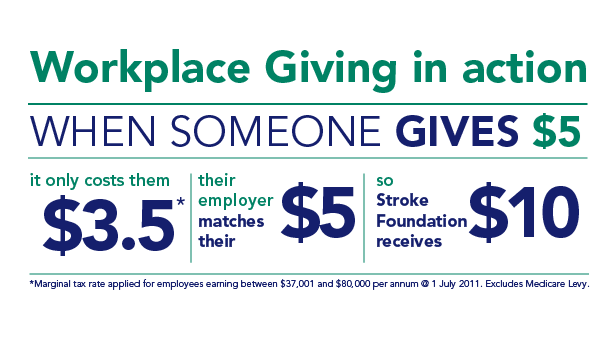 How can my workplace get started?
Stroke Foundation recommends the following providers of workplace giving programs:
The Australian Tax Office also provides information on workplace giving programs.

Find out if your workplace is one of our current workplace giving partners.
Can we volunteer?
Absolutely. We update our website with volunteering opportunities regularly. View Stroke Foundation volunteering opportunities